Sorry about the lack of posts. I work retail, so the past few weeks have been dedicated to guiding old women to Il Divo's Christmas album. Pace.
I look at this picture five or six times a day.
For the past three years, the mass media has fed us the story that a combination of the three men pictured above will save the NBA from the clutches of...whatever it needed saving from.
While the story definitely sells adspace, I for one haven't felt much of a resurgence. Of course, the same people who followed the NBA before the arrival of LeBron James, Dwyane Wade, and Carmelo Anthony are as entertained now as they ever have been. But has the NBA picked up many fans in the process? For every step forward in gaining new fans (bankable superstars winning championships in dramatic fashion, white people winning MVPs), there have been two steps back (labor disputes, the Motor City Melee). I'm starting to wonder what it will take for the average joe to care again. With that being said, the nine or ten people still into the NBA, along with the people who read my blog to make sure I'm not dead, would like to debate just who of these three basketball giants is having the biggest impact on the league after one quarter of regular season play. Since Bron Bron, Melo, and Flash are apparently biking enthusiasts, I'm doing it triathalon style. I'll rank each man in the categories of Overall Play, Importance to Team, and Image Control/Hardness. A first place in a category gets three points, second gets two, and third gets one. (According to
Sports Illustrated
, the young men spend all night "at the card table, playing bourre, a cross between spades and poker," but it was difficult to structure an entire column around a cajun card game for which I used to cheat my aunt out of nickels.)
OVERALL PLAY
Numbers don't lie, so this may be the easiest category to settle. Through today, each man's line looks like this:
Anthony-
EFF: +25.82 PPG: 31.6 RPG: 5.60 APG: 4.1 TO: 3.82 FG%: .503
James-
EFF: +26.04 PPG: 27.0 RPG: 6.70 APG: 6.7 TO: 3.54 FG%: .482
Wade-
EFF: +26.88 PPG: 28.1 RPG: 4.60 APG: 8.0 TO: 4.25 FG%: .476
Obviously, each guy is putting up superstar numbers, and those remarkable stats are pretty similar to one another. Most telling for each guy is the turnover number, which is high even for young players. Matter of fact, they're all in the league's top ten in turnovers per. (Wade's number one, but at least he's a psuedo-pointguard. It might be worse for Melo and Bron to have those numbers as forwards.) Not only does each head of Basketball Cerberus give the ball to the other team routinely, they all have certain eight or nine turnover nights, which should not be happening to them in their fourth years. On one hand, when the entire offensive scheme is run through a certain player, that player turns the ball over more just by virtue of handling it so much. On the other, these high numbers show just how much they may be forcing things to live up to the pressure heaved upon them.
Although it would take something like, I don't know, punching a dude in the face to deter him from winning MVP this season, Bron Bron hasn't been overwhelmingly productive: he hasn't had a single forty point game yet. Perhaps we're growing accustomed to him being this good--only two other players have ever averaged more than 20 points, 5 assists, and 5 rebounds in a season--but it seems as if he should be dominating on a more consistent basis right now, especially in the East. On the plus side, his nails are short and neat.
It looks as if you're enjoying that a bit too much, podnuh.
As for Melo, the statistics are best understood when compared to his previous career highs, since his averages are up almost across the board. While Mushmouth's minutes are nearly identical, his scoring has increased by eight points per game, and his assists are up a whopping 77%. King James and D-Wade are playing at high levels, but Anthony is over-achieving. However, all this improvement is subject to change, due to the suspension he's serving and his new brother in arm sleeves, Allen Iverson. More on both below.
After winning a championship single-handedly last season, Flash is under a bigger microscope than even Bron Bron. He's pouring in a lot of points, but it's more out of a desperate need to do so than anything else. He has no help in Miami right now, which is why it's impressive that he can still manage 8.0 assist average. Furthermore, he's a more dependable defender than either of his contemporaries, which the stats might not reflect since Bron gets more steals by playing zone more often and anticipating passing lanes. Invariably, Wade's opponents score less than Carmelo's or LeBron's. More than the other two guys, Wade's numbers could look much different by the end of the regular season. He's obviously tired after playing over a hundred games and topping it off with a national team tour last year. Here's a guy who runs full-speed for forty minutes a night and falls down more than Mary-Catherine Gallagher in a pile of banana peels: who knows what he'll look like in three months? All bets are off until the
ball change goes into effect
and Shaq can come back to take some heat off. Heat off--making mountains out of LOLhills.
I'm guessing Wade dreams about not being the coolest guy in the world. Either that or falling. CARMELO- 3 pointsDWYANE- 2 pointsLEBRON- 1 pointIMPORTANCE TO TEAM
Without question, Carmelo ranks last in this category. Since Kiki Vandeweghe imported some guy with tattoos who puts up thirty a game, it's debatable whether or not Anthony is even the best player on his own team anymore. As he's serving his fifteen game suspension, the Nuggets will operate like Van Halen without David Lee Roth--never really the same but quite capable with the new guy, thank you very much.
Until this season, James was the best example of a one-man team. Part of the argument for LBJ as MVP last year was that he was achieving so much while surrounded by stiffs like Anderson Varejao. With a few smart draft picks and acquisitions, along with less injury problems, this is no longer the case in Cleveland. Of course, having a second and third option is different from asking "If the Cavs didn't have LeBron, could they make the playoffs?" and laughing before you finish the question. As a supernatural passer and a scoring threat from anywhere on the floor, LeBron's best role may be as decoy. Imagine this team without him. Let's just say Drew Gooden, a guy who had trouble getting signed in the offseason, wouldn't be scrounging up over eight boards a game.
If LeBron is Jimmy Chitwood though, Wade is pretty much
Teen Wolf
. While Carmelo's team can win without him and LeBron's lost in its only game without him this year, the Dwyane-ettes have lost all three in which he hasn't played.
I just saved you from having to read The Da Vinci Code. This is pretty much what they figure out. Controversial, I know.
But let's couple that with some data. According to
82games.com
, Wade's play in clutch situations, which they define as "fourth quarter or overtime, less than five minutes left, no team up by more than five points," has been unparalleled. In those scenarios, it stacks up like this:
Anthony:
Minutes- 73%
Net points- -8
Winning percentage- 44%
James:
Minutes- 100%
Net points- +18
Winning percentage- 50%
Wade:
Minutes- 99%
Net points- +33
Winning percentage- 77.8%
You might actually perform better in overtime with a towel on Melo's head, but there is apparently no one better in close games than Dwyane Wade. These stats may not be that striking at first glance, but think of it this way: in a tight seven game series, Flash can win you one more game than Bron Bron can.
Nobody does it better.DWYANE- 3 pointsLEBRON- 2 pointsCARMELO- 1 pointIMAGE BUILDING/HARDNESS
Wade has definitely gotten the most press as of late, garnering a glossy cover spread in
GQ
("When he's playing basketball, he's as beautiful as any human expressing him- or herself physically in any way.") to go along with his
Sports Illustrated
Sportsman of the Year award.
While those two items might be exultant, his
Converse commercials
have been downright humble. Directed by Spike Lee, they seem bent on showing us the
real
Dwyane Wade, the regular dude who has to practice his game face in the mirror. I don't know if this has translated into shoe sales (I've seen more Vans in the mall lately than Wade 1.3s), but to me, this seems like the next logical step. We've all been introduced to him by now, so it's time to bring him home to mom. The smart money says he'll have the best career after the NBA, either as an analyst or an actor.
As far as hardness goes, Wade missed two games getting his wisdom teeth removed. When I got my wisdom teeth removed, I went to see
Hannibal
the next day with no painkillers. Case closed. Suck it up, pretty boy. Only in his complaints about the new synthetic ball was Wade outspoken and hard, and even then LeBron probably criticized it more harshly.
Conversely, when your high school games were on ESPN and you've been part of the public consciousness for six years, the way to go is more fictional and absurd, which is why I think Nike's "The LeBrons" campaign has been much more successful. It helps that the spots are actually funny and reveal a less serious side of LeBron in a way that a more non-fictional approach never could. It should be noted that, of the three, LeBron has the most all-star votes as well.
And his hardness has jumped a few notches in the off-season. LeBron on whether or not he would wait in line for a PS3: "No. I have a lot of connections I guess." LeBron on the Cavaliers' throwback uniforms: "They look like orange sherbert. It doesn't seem like a good way to start off on the road." LeBron on the mixtape he hosted: "G-Unit Radio in your muthafuckin' mouth!" LeBron on the Christmas present you got him: "I don't even have a Books-a-Million by my house. Just keep it."
Dreamsicle would have been both more accurate and funnier, but I understand that you're still working on this comedy thing.
Meanwhile, Carmelo is still stuck as the frontman for Nike's sort-of-subsidiary Jumpman, where he will always be relegated to second banana. It would have been nice if he had signed with Reebok, just for symmetry's sake. Basically, any commercial in which he talks will draw attention to the fact that he's an idiot. Rather than acknowledge this and go avant-garde with, say, thirty seconds of Melo holding the shoe up to the camera or playing XBox, Jumpman has him narrating clips about his dedication. Everyone ignores the unintentional comedy that could result from a well-directed Mushmouth commercial. All you need as a resource for this type of thing is his hosting of the
Big Boy Game 11
mixtape: "Yo, sometimes I sit back and think, 'Is this really happening to me?' Other times I sit back and say, 'Fuck it. I'm on top of the world right now'...so check it, I ain't here to sell myself to the world. I'm just here to let you know that this shit you're about to hear is fire. Crazy. Some of the hottest shit in the street right now!" Another classic is his episode of "MTV Cribs": "I don't believe males should be taking baths."
In the past, Melo's maturity was always a question mark. First, some Turtle took the blame for weed on Carmelo's person. Then a different friend took the fall a separate time. Then, he showed up on some underground video that had something to do with murdering someone? But over the summer he was the captain of the FIBA team, he lost some weight, he got a lot better as a player. People were willing to forgive and forget. Well let's just say any progress Carmelo made in the maturity department has been pushed back after this: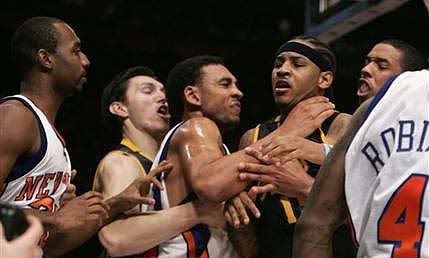 Chili dog.LEBRON- 3 pointsDWYANE- 2 pointsCARMELO- 1 pointFINAL SCORE:1st place: Dwyane Wade- 7 total points2nd place: LeBron James- 6 total points3rd place: Carmelo Anthony- 5 total points
D-Wade is the winner, but it's still close. Tune in at the break for a second quarter triathalon.