Happy Valentime's Day. (Valentime being the Cam'ronizing of the word, the same way we here at TANBR refer to portable computers as "labtops." Someday there should be a glossary.)
courtesy of cracked.com
I'm working on an especially probing post right now, and I'm sure P.T. and Jelly are doing whatever it is they do, but here are a few items of lesser importance to skim over while you're pacing
The Notebook
.
- For one night only, your New Orleans
Hornets wore
red uniforms
. In recognition of the birth of Christ, teams still rock the G.I. home and away. But a bullshit holiday made up by Hallmark and needy women? We Jerry Jones it out. Apparently, the special unis were also used to benefit the American Heart Association. Get it?
It was as good a night as any to be in Oklahoma City, since roses were handed out to the first thousand ladies courtesy of Chris Paul. Considering that a dozen roses are, like, fifty bucks, if this is true, CP3 is BAALLLINNN' (a few hundred broads in his hotel room right now [Judging from his 8.5 dimes per game, he's probably a very unselfish lover.--no homo--]). Normally, I would never want the team to sport red again, so that I could harbor this night in the back of my mind for trivia purposes. However, the Hornets won by a score of 110-93, so I say we keep this going.
You have to love regional broadcasts of games--specifically, Cox Sports' Gil McGregor. If I had taken a drink for every time he said "dribble-drive," I'd be dead. And I'm at Mardi Gras tolerance levels right now.
- Speaking of Mardi Gras, I'm facing the ultimate dilemma: should I attend carnival festivities [drink until I piss all over a post office] or watch All-Star weekend? Two years ago, the All-Star stuff fell on Valentime's and my fiancee told me, "We'd better eat dinner early," which was as hall-of-fame of a play as the Immaculate Reception. This, however, is a real conflict. Plus, as if I wasn't in the mood enough as it is, nba.com put up this
video gallery of every dunk contest ever
. I guess I could tape this year's and whatnot, but who tapes things?
- In other NBA news, the Celtics not only won, snapping their eighteen-game losing streak, but they paced the Bucks by twenty points. Although it probably would have been more impressive to have won each of the last eighteen games by 1.1111 points instead.
- Isn't
denying that Tyra Banks is fat
actually kind of insinuating she's just that?
- The fiancee: "So what is hyphy and why is it supposed to be so cool?
Me:
Mistah F.A.B.'s "Ghost Ride It"
The fiancee: "So what is hyphy and why is it supposed to be so cool?"
-
For people growing up in the age of
Maxim
and
Almost Nipples Monthly
, the
Sports Illustrated Swimsuit Edition
might seem past its prime. Indeed, with its exotic locales, zaftig models, and legendary photographers such as Herb Ritts and Walter Ioss, it seems way better than it needs to be. Plus, I remember fondly many Februaries hence, when I used to walk all the way to the K&B and buy the following: a Dr. Pepper, barbecue-flavored sunflower seeds, Bazooka bubble gum, a pack of
Donruss Triple Play
baseball cards, and a copy of SI's finest. My how things have changed: I switched to Topp's basketball cards a long time ago.
Sure,
most of
my favorites
are gone, they should have more butt shots, and they should really discard the whole "OMG! Body paint! You still totally can't see anything good!" thing. But there's something about the S.I.S.E. that's more timeless and classic than anything of its ilk.
"Timeless" being DJ Paul and "classic" being Juicy J. Seriously, this celebrity cross-promotion bank robbery is another thing to get rid of. In the magazine, there's a picture of Kanye hanging on Anne V. with a boner. No lie.
Most of the news reports about the new issue focus on the magazine's decision to showcase Beyonce on the cover, rather than the typical model. I think it's a good look. If you're going to include more celebrities as a concession to the
Maxim
readers, why not use your influence to get someone those other publications can't? There's a reason B. hasn't been in a lot of mags like
Hey, Dude, the Side of C-List Actresses' Hooters
, and it's because she was looking for something with more class and impact. It's win-win. Furthermore, bravo to SI for the progressive move of making the majority of the issue, along with countless other goodies, available online.
Anyway, I like
Sports Illustrated
occasionally, Beyonce most of the time, and you always, gentle reader. Hopefully, you're not blogging late at night on Valentime's.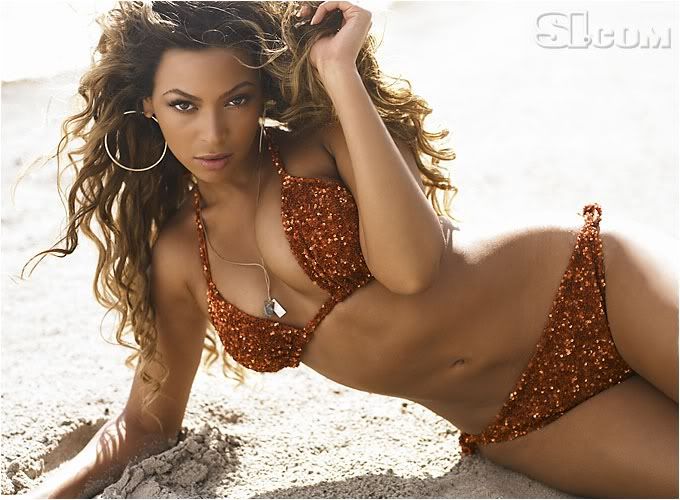 But if you are...